My Account
Account Expiry: Never
Account Expiry: {{ GetAccountExpiryDateFormat(AuthenticatedUser.ExpiryDate) }}
Account Expired On: {{ GetAccountExpiryDateFormat(AuthenticatedUser.ExpiryDate) }}
Welcome to Merlin LiveBid!
To access Merlin LiveBid, click on LiveBid on the left hand side of this page under My Account and then click on "Open LiveBid" for the sale that you want to bid on.
Please note that LiveBid opens 30 minutes prior to the auction starting.
If you are using Google Chrome, by default, the sound is not switched on. To turn on, please click as indicated in the picture. Green -> On - Red -> Muted.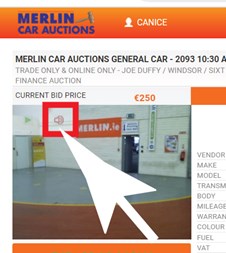 Welcome to Merlin LiveBid!
You will need to pay your refundable €1,000 deposit before being allowed access to bid
You do not need to have a PayPal account to place your deposit, you may use your debit / credit card instead. Simply click on Pay with Bank account or Credit Card - underneath the PayPal Log In button on the next page.
The granting of access is NOT AUTOMATED when payment is made. When your account has been reviewed, you will receive an email confirming that access has been granted.